General for all documents
General for all documents
Updated by Graham Davies
General configuration options
Navigate to Axdata® > Tools > Setup > Document setup in the Modules menu. The options below are generic and apply to all Axdata Business Documents and allow different configurations for each legal entity. Here is an overview of a typical setup and following is a short explanation of each option.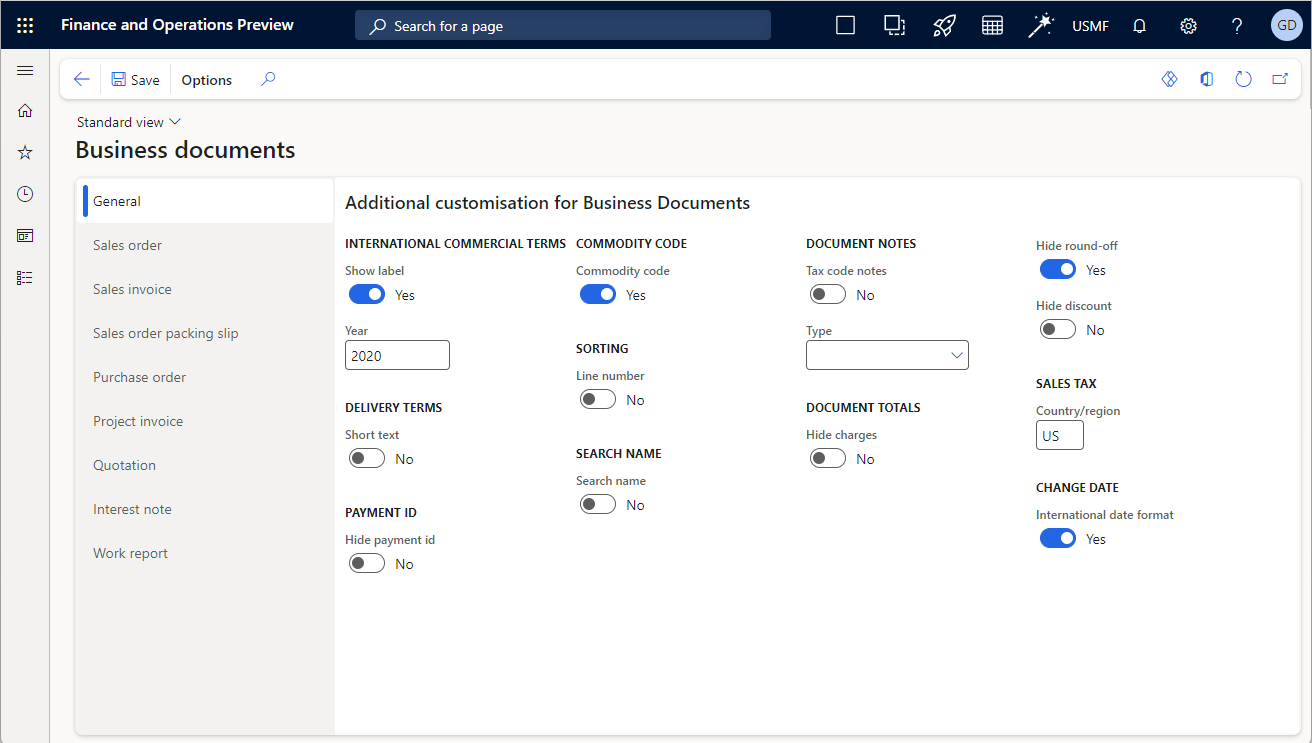 Show label allows you to turn on or off the 'Incoterms' label which is added to the delivery terms label, together with the year display the contract you follow.
Payment id is the use of the Norweigian KIDD number.
This can be enabled in a non Norweigian entity
Search name refers to the search name on the item card, if this is a preference you can use this for item descriptions
Delivery terms short text, this will toggle between the short term ie FOB or the longer term 'Free on board'
Commodity code will display the intrastat/commodity numbers
Sorting line number will change the standard ordering within the business document body and use line number which should replicate the order they were entered into the form in D365FO
Document notes tax code and Type allows additional text related to tax code to be added to the documents. This using the standard document handling form notes, if there is external text you can now repsent it on the documents.
Document totals hide charges toggles on/off the Charges section of the totals row. If you never use the charges functionality then you can now remove the column.
Document totals hide round-off toggles on/off the Round off section of the totals row.
Document totals hide discount toggles on/off the Discount section of the totals row.
Sales tax country/region allows you to put the contry designator in front of the tax registration number
Change date > International date format. When dates are represented with numbers they can be interpreted in different ways. For example, 01/05/23 could mean January 5, 2023, or May 1, 2023. On an individual level this uncertainty can be very frustrating, in a business context it can be very expensive. Organizing deliveries, writing contracts can be very difficult when the date is unclear. This setting removes any uncertainty and changes date format on all documents to dd-mmm-yyyy for example 01-May-2023