Updated by Graham Davies
Sales and Free text invoice configuration options
Navigate to Axdata® > Tools > Setup > Document setup in the Modules menu. This setup extends the generic options and provides additional setup only enhancing the Sales order invoice.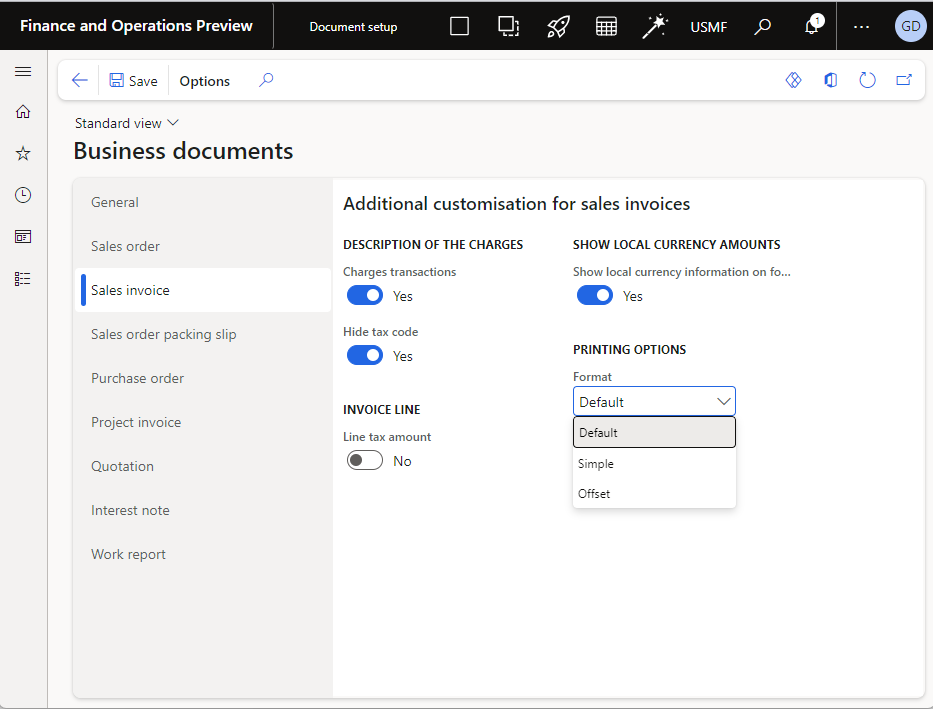 Description of the charges
Charges transactions toggles on/off itemised charges.
Hide tax code, there is a column that displays the tax code you can now hide this field display.
Invoice line tax amount allows you to display the tax amount on each row.
Show local currency amount will allow you to display the accounting currency amount on the invoice when there is a foreign currency transaction that includes tax. This is a legal requirement that should be enabled.
Printing options allows you to change the default layout.
Default offers no changes.
Simple will provide more space to the report columns by removing hidden columns that are consuming white space, increased column width is given to the item id, description, qty, price and line amount and now spans the width of the page. Use this layout if you don't use sales discounts.
Offset moves the item description to a new line and provides more space all the other columns including hidden columns.